Nuova Collezione Makeup e Bijoux Be chic Sun&Fun Summer 2014
Buongiorno fanciulle e fanciulli! Sono iniziate finalmente le belle giornate con tanto sole, colore e divertimento! Ecco che vi presento la nuova collezione Summer 2014 Be Chic Sun&Fun, che si diverte ad abbinare bijoux colorati con makeup altrettanto coloratissimo.
Be Chic propone quattro famiglie colore dagli abbinamenti contrastanti che rendono i colori ancor più esplosivi. La collezione Be chic Estate 2014 è frizzante ed allegra. Propone accessori estate coloratissimi con cui ci si può divertire a cambiare sempre look! Gloss super lucidi e smalti colorati per avere sempre le unghie perfettamente laccate!
Scopriamo insieme quali sono le quattro famiglie colore della nuova collezione makeup e bijoux Be Chic Sun&Fun Summer 2014:
Be Chic Sun&Fun Military Pink
Be Chic Sun&Fun Water Purple
Be Chic Sun&Fun Funny Orange
Be Chic Sun&Fun Sunny Blue
Be Chic Color Bangle Yellow & blue (15,90 euro)
Be Chic Jewels Shocking Bracelet Juicy Yellow (12,90 euro)
Be Chic Makeup Smalto Deep Yellow e Blue (3,90 euro/cad)
Be Chic Makeup Gloss Transparent (6,90 euro)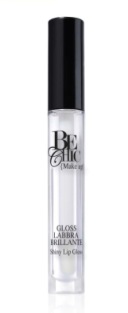 Questi sono tutti i prodotti che usciranno con la nuova collezione Be Chic Sun&Fun Summer 2014, disponibile nelle profumerie selezionate a partire dal mese di maggio.
Ciao ciao, Vicky!