Nars Nuova Collezione Makeup Estate 2014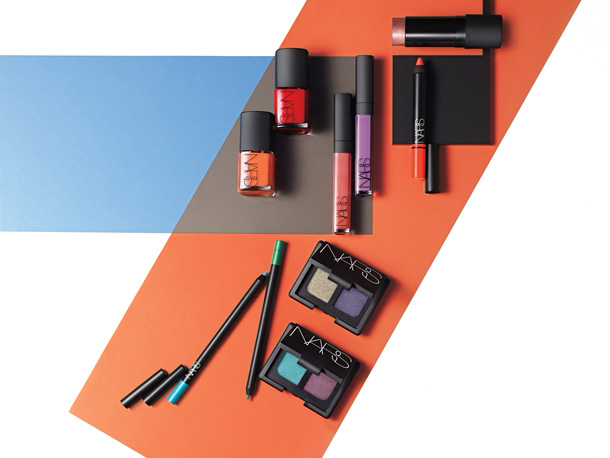 Buongiorno ragazze! Oggi vi voglio mostrare la nuova collezione make-up Nars Estate 2014, un vero tuffo nella bella stagione, una colorata immersione nei prossimi trend make-up estate 2014. Gli ombretti sono syuper shimmer per creare uno sguardo magnetico e luminoso; Eyeliner turchese e verde smeraldo per personalizzare il proprio makeup occhi.
Scopriamo insieme quali sono i prodotti che faranno parte della prossima collezione make-up Nars Estate 2014:
Nars Spring 2014 Duo Eyeshadow (34,00 euro): Ombretti duo dal finish satinato e luminoso, pratici e comodi perchè già perfettamente abbinati tra loro;
Nars Spring 2014 Larger Than Life Long Wearing Eyeliner ( 25,00 euro): Matite Eyeliner per dare un tocco di colore al proprio make-up, durata estrema e texture morbida e scorrevole;
Larger Than Life Long-Wear Eyeliner Khao San Road
Larger Than Life Long-Wear Eyeliner Puerta Del Sol
Nars Spring 2014 larger than life lip gloss (25,00 euro): Gloss labbra super luminosi che aderiscono perfettamente senza sbavature;
Larger Than Life Lip Gloss Annees Folles
Larger Than Life Lip Gloss Bimini

Nars Spring 2014 the multiple (41,oo euro): Un vero prodotto must-Have Nars! The Multiple è perfetto su occhi, gote, labbra e corpo per creare dei punti luce shimmer. Un unico prodotto per un infinità di utilizzi;
The Multiple Na Pali Coast

Nars Spring 2014 Satin Lip Pencil (25,00 euro): Un matitone rossetto dalla texture ricca e idratante, colore vibrante ed unico; pratico, veloce  e preciso nella stesura sulle labbra;
Satin Lip Pencil Timanfaya

Nars Spring 2014 opaque nail polish (18,00 euro): Smalto dal finish gloss che contiene protezione UV che previene eventuali decolorazioni. Nars propone il suo smalto estate 2014, un colore assolutamente moderno e simbolo della bella stagione;
Questa è l'intera collezione make-up Nras Estate 2014, che potrete trovare a partire dal mese di febbraio in tutte le profumerie Sephora che distribuiscono il marchio, in alternativa potrete andare direttamente sul sito di Sephora.it o su NarsCosmetics.eu.
Ciao Ciao, Vicky!