Novità Benefit Natale 2015: Ecco tutti i cofanetti makeup!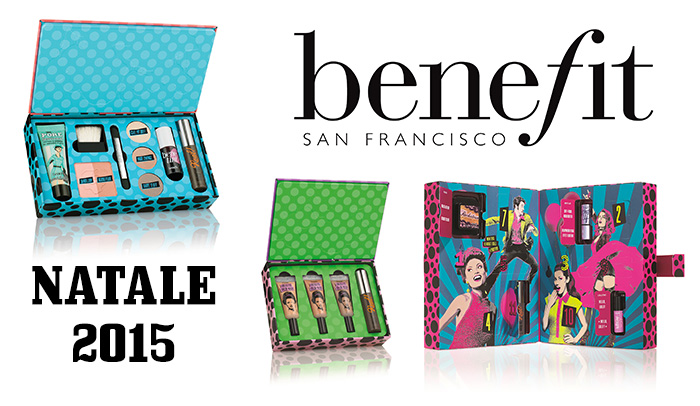 Buongiorno carissime makeup addicted! In settimana sono andata a scoprire tutte le novità Benefit Natale 2015 ed oggi ve le mostro con enorme piacere perché trovo che siano davvero deliziose! Personalmente adoro i cofanetti makeup perché trovo siano sempre delle idee regalo fantastiche ma soprattutto perché consentono di provare una varietà di prodotti non indifferente in un formato ridotto rispetto a quello usuale di vendita, e permettono di farcene un idea precisa.
Vediamo insieme tutti i nuovi cofanetti makeup e skincare Benefit Natale 2015:
Benefit Natale 2015 Kit Party Poppers (49 euro): Si apre come fosse un libro e custodisce 12 piccoli preziosi makeup Benefit! Potrebbe essere utilizzato come un piccolo calendario dell'avvento cosmetico, più snello e veloce rispetto ai consueti 30 giorni. Sarà disponibile esclusivamente presso la boutique Benefit del punto vendita Sephora di Corso Vittorio Emanuele, Milano.
Mini-POREfessional 7,5 ml

Mini mascara They're Real!

Mini blush in polvere Rockateur

Mini High Beam illuminante -2,5 ml

Mini blush liquido Lollitint-2,5 ml

Mini illuminante stick Watt's Up

Mini crema anti-age Ooh La Lift

Mini mascara waterproof BADgal

Mini crema viso idratanteTotal Moisture

Mini cleanser occhi waterproof They're Real!

2 mini lucida labbra Ultra Plush (tonalità Hoola e Sugarbomb)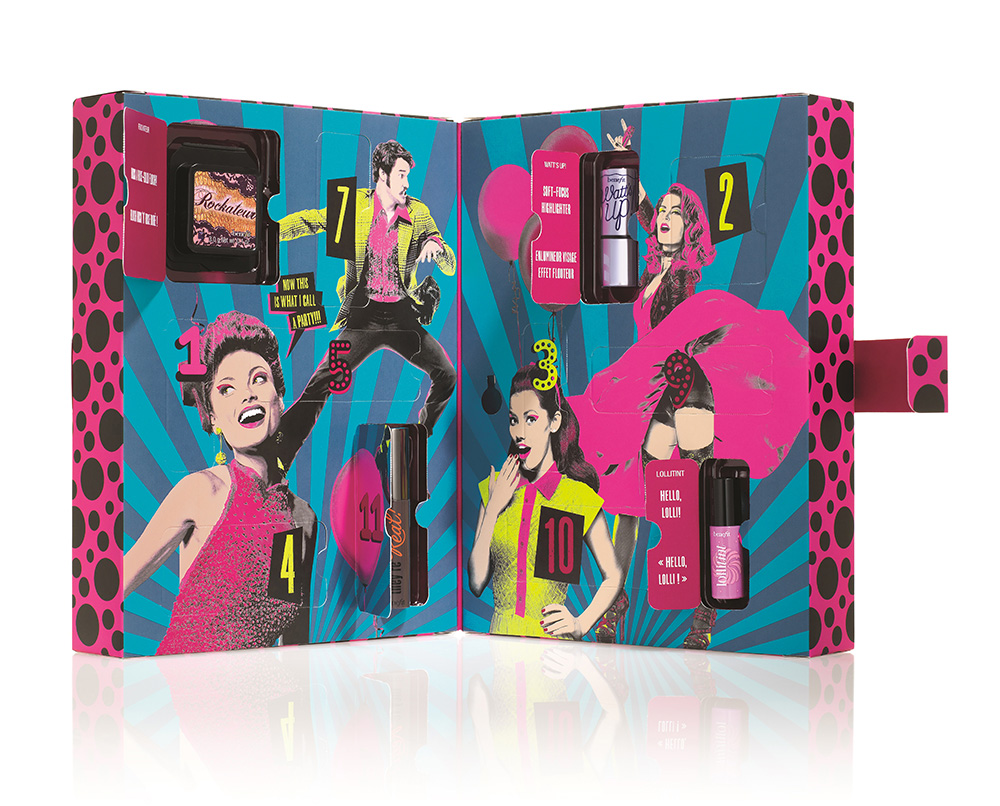 Benefit Natale 2015 Kit Life of the Party (37 euro): Una palette in cartonato rigido completa di ogni prodotto, ombretti dalle tonalità neutre, il famoso mascara They're Real, blush in povere, un primer cancella pori ed infine il multitasking Benetint!
The POREfessional 7.5ml
They're real!Mini 3g
Benetint mini 4ml
Palette di ombretti nelle tonalità taupe it off, nude swings, call my buff
Dandelion/Rockateur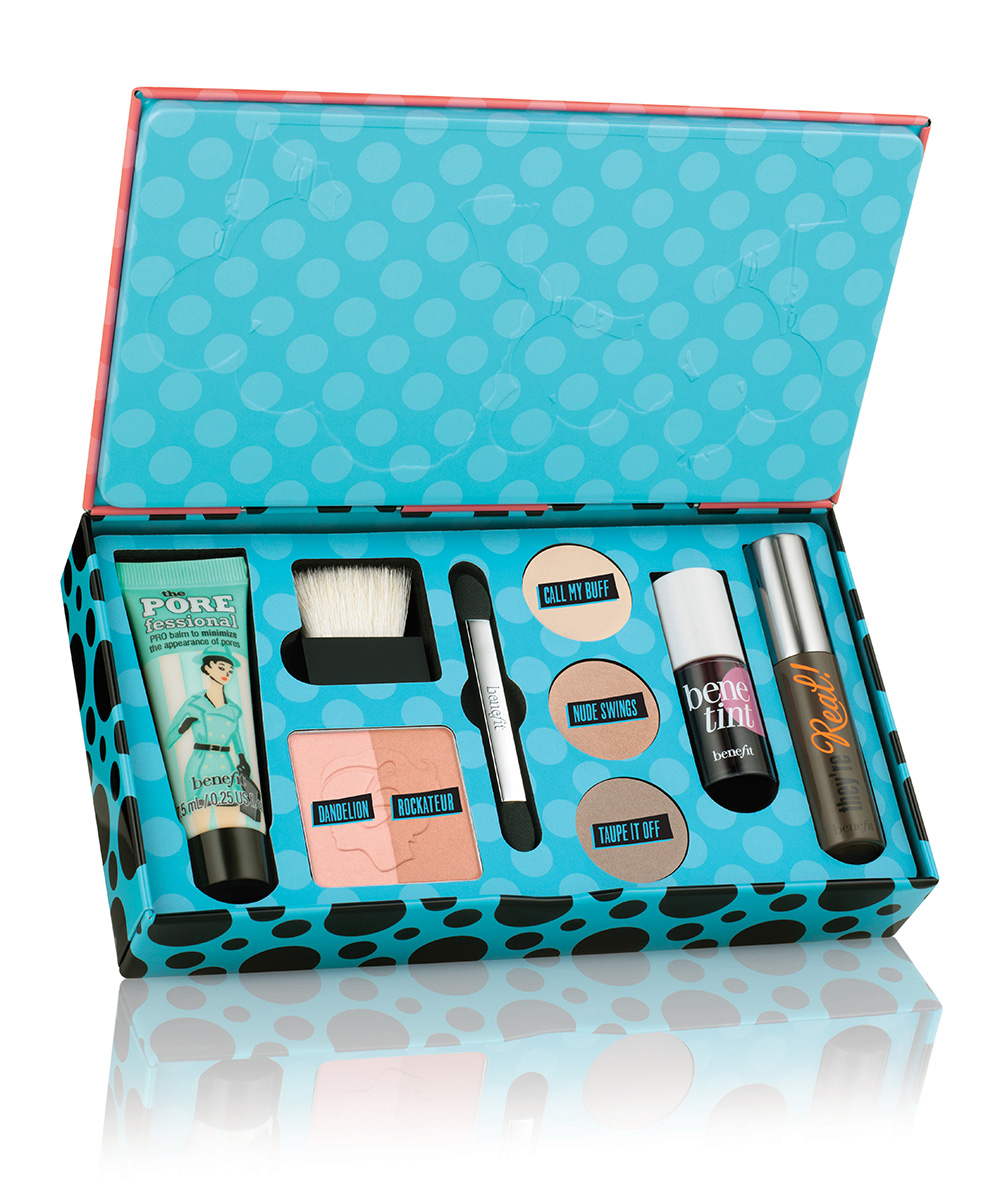 Benefit Natale 2015 Kit Pret-A-Party (40 euro): Due prodotti Must-Have Benefit in formato full size, il Benetint ottimo sia come tinta labbra ma anche come blush long lasting ed il celebre mascara effetto ciglia finte They're Real. Ma non è tutto, il cofanetto Benefit comprende anche una mini taglia di primer viso POREfessional ed una del correttore cremoso Fakeup.
They're real!
The POREfessional mini 7.5ml
Benetint
Fakeup mini colore 02 medium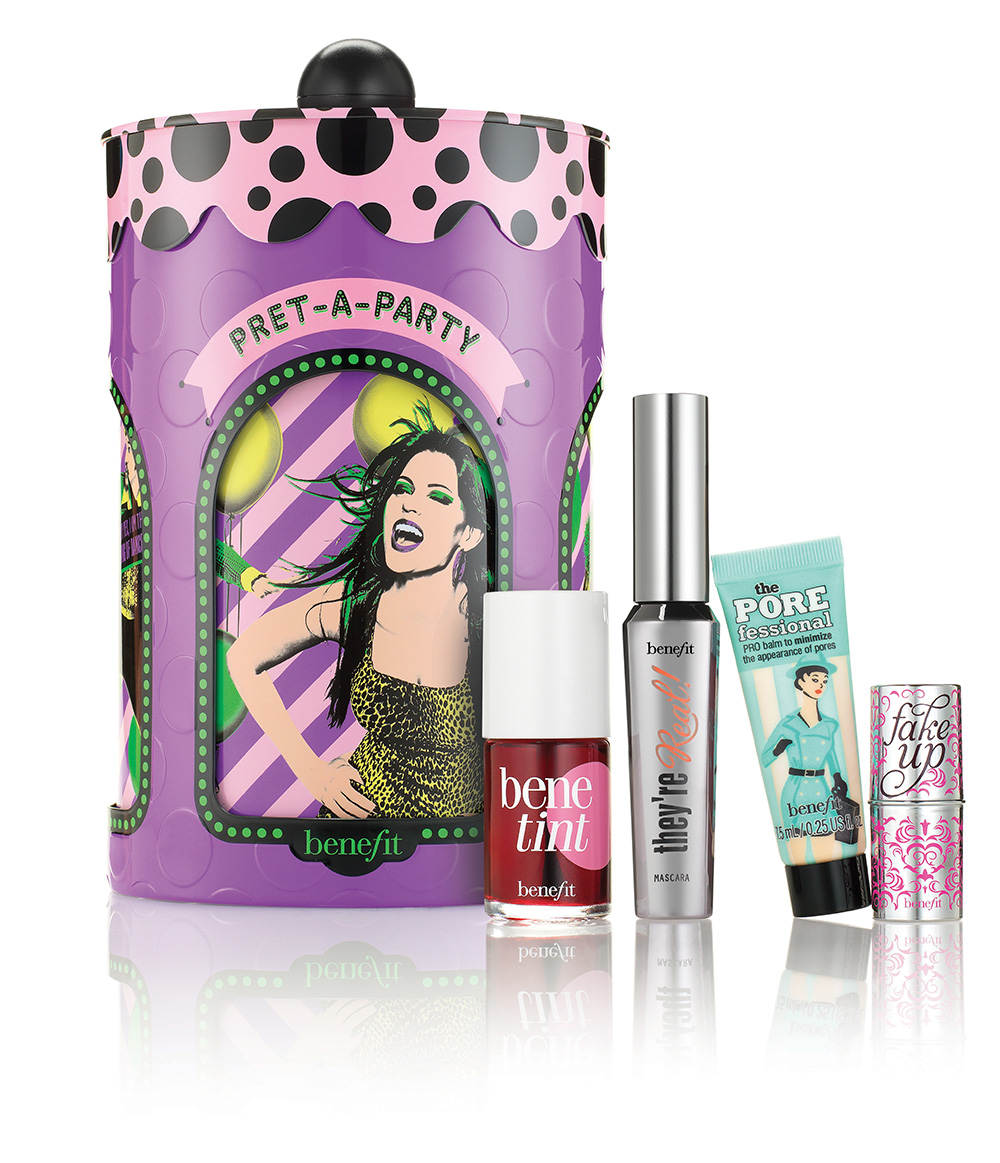 Benefit Natale 2015 Kit Party to the Peepers (25 euro): Tre ombretti cremosi pratici e veloci da utilizzare con un ottima tenuta abbinati al mascara They're Real, una certezza Benefit.
They're Real! 

Mascara mini 3g

Ombretti in crema: honey talks, peach party, go taupeless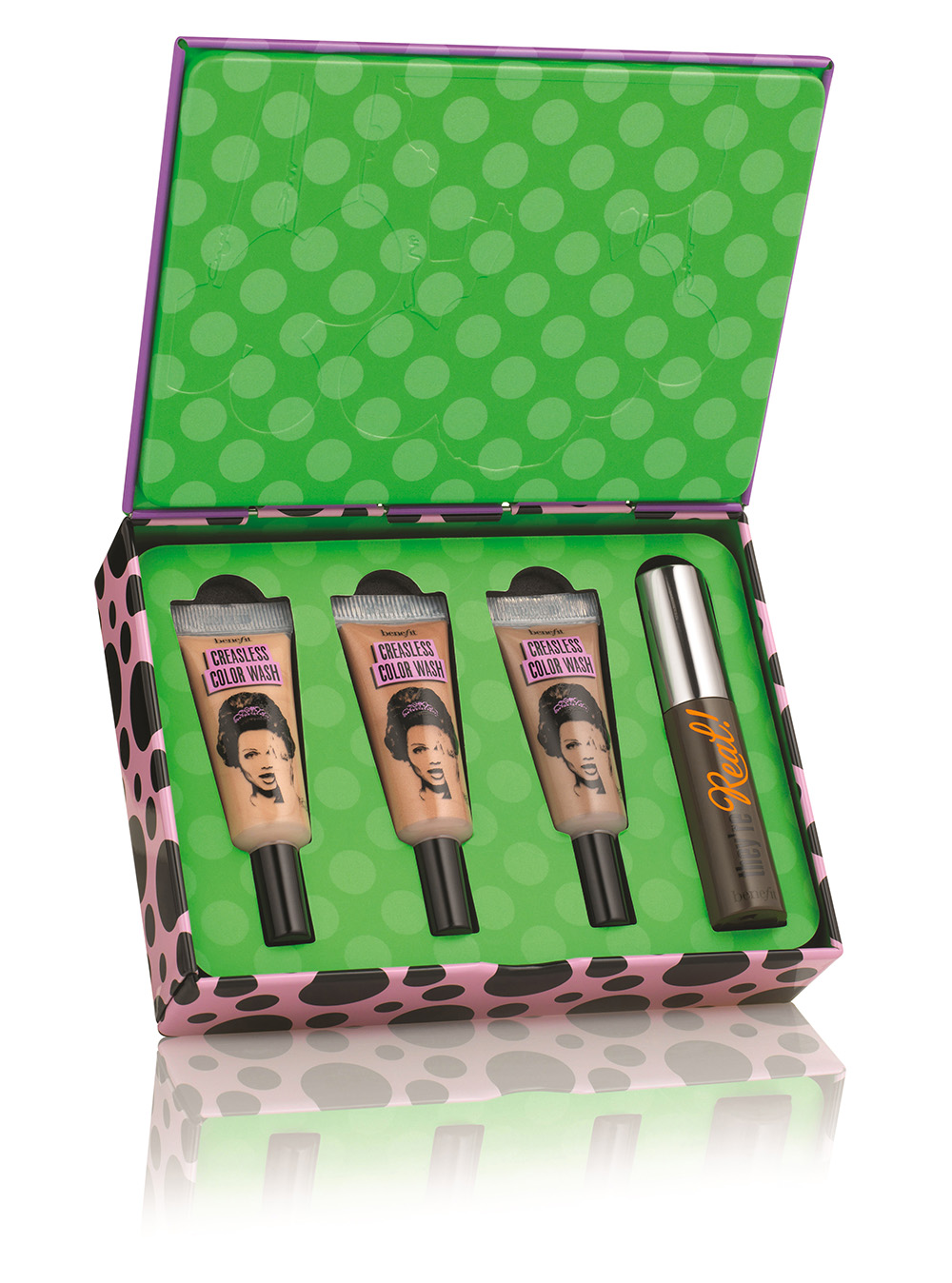 Benefit Natale 2015 Kit B.Right to Party (49.50 euro): Un cofanetto skincare perfetto come idea regalo, racchiude alcuni dei prodotti best-seller di Benefit che personalmente ho provato in passato che mi erano piaciuti moltissimo. Questo cofanetto Benefit ha un prezzo ottimo considerando che contiene sia la crema viso che il contorno occhi in versione full size.
Triple performing facial emulsion
It's potent eye cream
The POREfessional 7,5 ml
Instant Comeback mini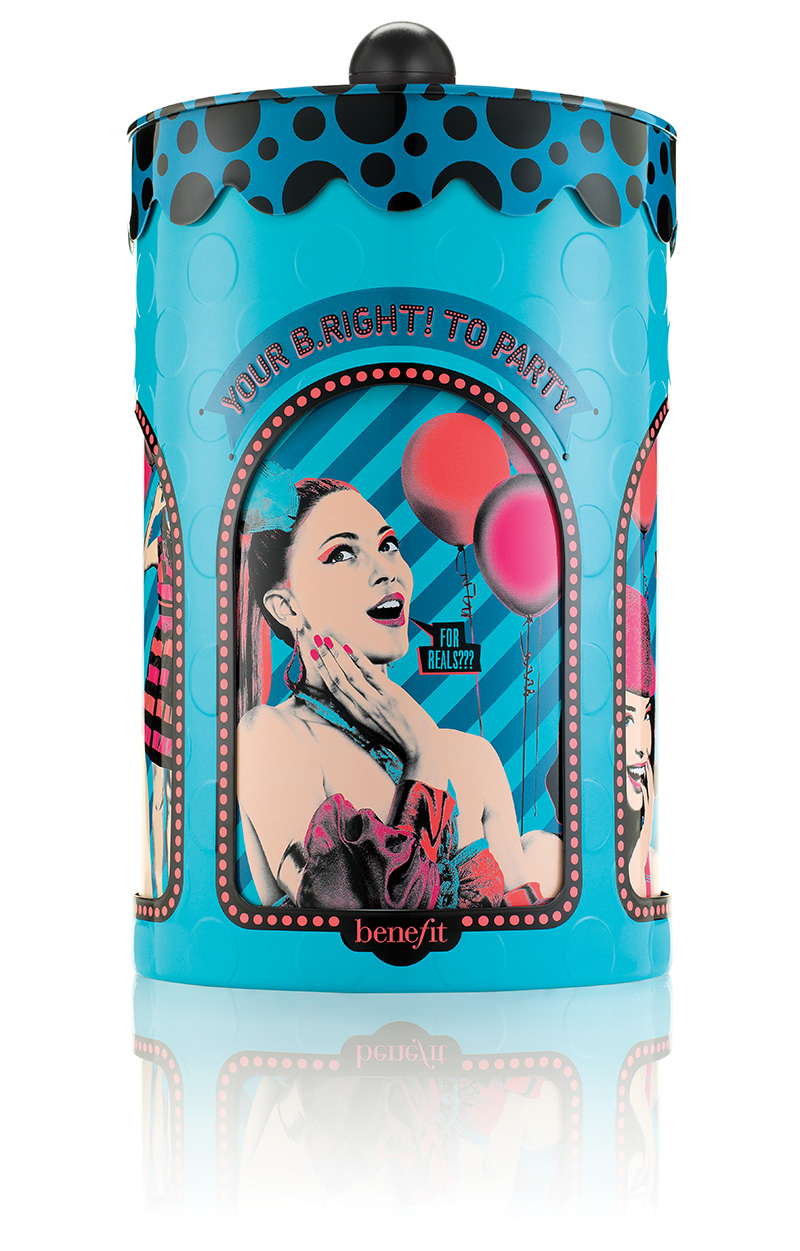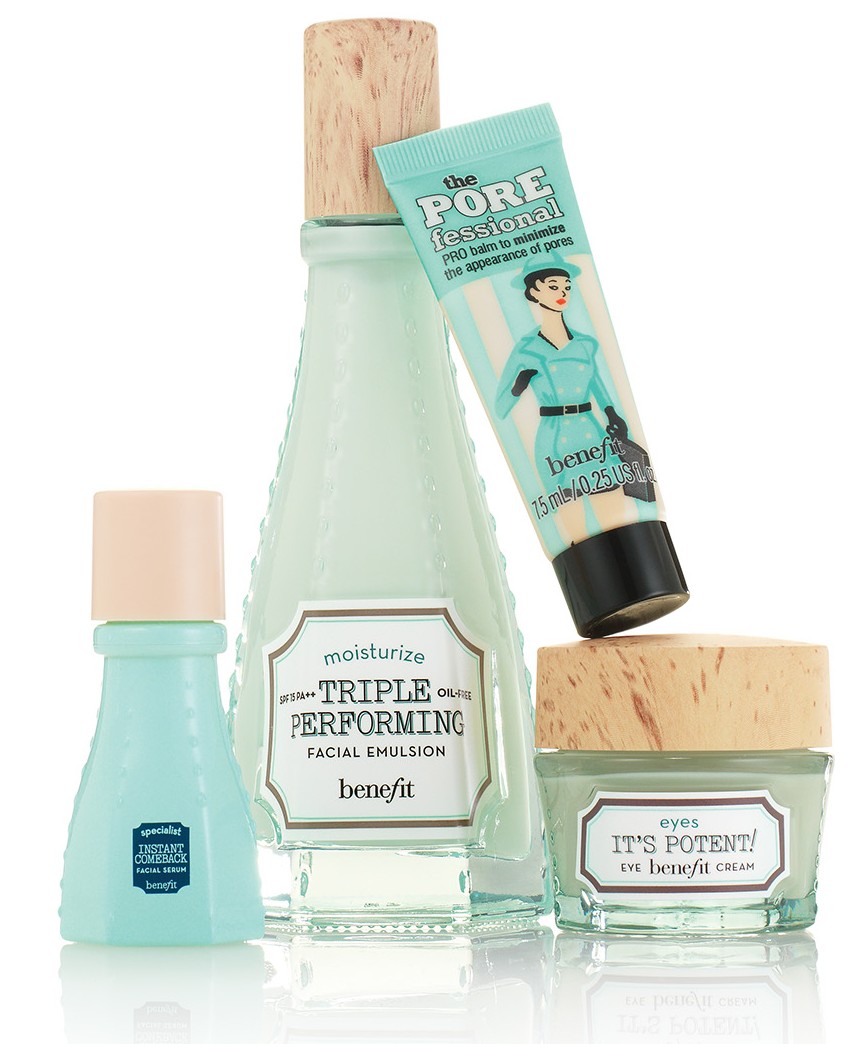 Ecco fanciulle, questi sono tutti i nuovi cofanetti makeup e skincare Benefit per Natale 2015. Una vasta scelta sia per quanto riguarda i prodotti contenuti che per il fatto che sono molto convenienti. Ovviamente queste sono tutte delle perfette idee regalo Natale ma nulla ci vieta di "auto regalarcele"!
Vicky❤️