Video Get Ready With Me – Perché ricorrere alla chirurgia estetica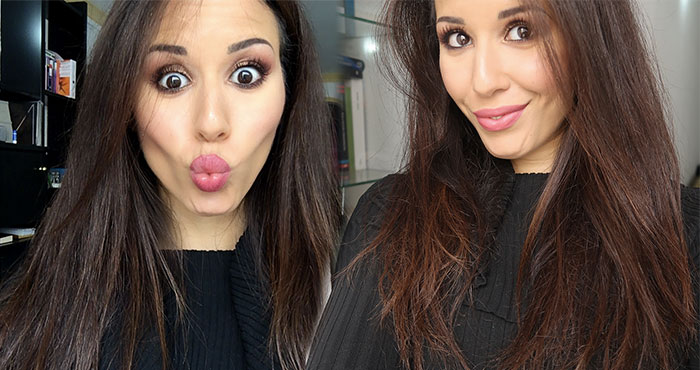 Dopo alcune settimane di assenza torniamo in pompa magna con un nuovo video Get Ready With Me BLABLABLA, quindi un video durante il quale mi preparo in diretta mentre chiacchieriamo affrontando l'argomento del giorno. Questa volta abbiamo colto spunto dalle innumerevoli domande che mi sono state lasciate sotto al video Intervista Doppia riguardo ad una delle mie risposte che ha suscitato davvero un sacco di curiosità un po' inaspettata..
L'argomento di questo video GRWM BLABLABLA non poteva che essere la chirurgia plastica e la mia esperienza, il tutto mentre mi trucco utilizzando quasi esclusivamente makeup low cost che volevo provare da tempo, come la palette di Makeup Revolution Naked Chocolate ma non solo. Ho voluto creare il mio makeup utilizzando alcune novità cosmetiche e avevo tanta voglia di un makeup marrone giocato interamente su queste sfumature, con un pizzico di bronzo e stop. Sulle labbra ho scelto un rossetto liquido Catrice Velvet Matt, un rosa medio scuro molto bello e portabile.
Chiacchiere e trucchi sono gli ingredienti principali di questo video e, come sempre, io e Ale amiamo parlare liberamente esponendo quello che è il nostro pensiero che stranamente in questo caso è abbastanza allineato verso un unico polo riflessivo. Ora ti lascio al video e se sei interessata a un video nel quale racconto tutta la mia esperienza con la chirurgia estetica, lascia un commento sotto al video.
TUTTI I PRODOTTI MAKEUP UTILIZZATI
 V I S O
Fenty Beauty Pro Filtr Foundation
Wet N Wild Photofocus Concealer Light Ivory
Yves Rocher Highligheter Duo
Makeup Revolution Luxury Banana Powder
Catrice Professional Makeup Techniques Face Palette n°010
O C C H I
Too Faced Primer Shadow Insurance
Makeup Revolution Naked Chocolate
Sephora Nuit Kajal
Essence Mascara Lashes of the Day
S O P R A C C I G L I A
Benefit Ka Brow
L A B B R A
Catrice Velvet Matt Lip Cream n°070
S M A L T O
Essence The Gel Nail Polish°107
Vicky❤️